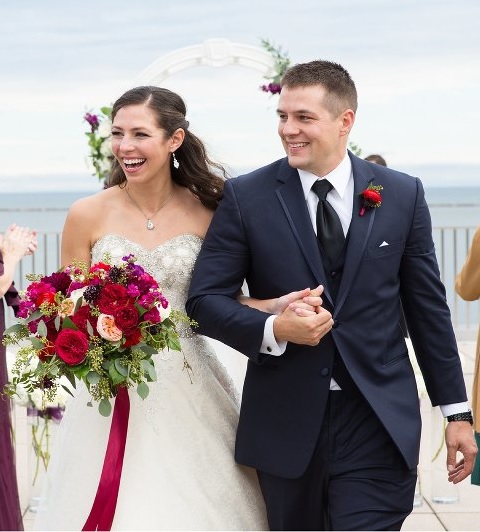 What I learned from wedding planning
Well, friends. It's been just over a week and I am already experiencing the post-wedding blues.
Our wedding day was simply amazing, and I wish I could relive it all over and over again. Since I can't do that, I figured I would share with you the big lessons I took away from our wedding, and the planning process as a whole. If you're a bride-to-be, I hope you find this helpful! If you have any other questions or want someone with whom you can share your excitement – you know where to find me! And if you're already married, don't be afraid to share your thoughts and words of wisdom in the comment section below!
Photo credit: The incredible Shaffer Photo! Flowers by Jennifer Joyce Design.
Take full advantage of your engagement!
You are getting married, and there are vendors galore who want you on their team! One of my favorite parts of wedding planning was the catering tastings. A free date night? I'll take it! It might feel a little awkward at first to accept a free meal from a stranger, but I promise, you will get over it.
Even the seemingly mundane tasks (addressing envolopes, perhaps?) can be special by doing them together, throwing on a favorite TV show and opening up a special bottle of wine to share. Been saving a bottle for a special occasion? I think this definitely applies!
Don't be afraid to let others in on the process.
Giving up control is not a strong suit of mine.
When other people offered up their help, I didn't always take it. I got better with this as the wedding day got closer, but initially this was a tough one for me. Your friends and family want to help! So go ahead – get your team involved!
This was also probably one of my only regrets in the wedding planning process (and it's a pretty small one in the grand scheme of things). My mom and then-fiance were my go-to wedding-planning-partner-in-crimes, but I realized two weeks out that there were quite a few decisions I made (specifically on decor), that I hadn't told my fiance about at all. Trying to get him in on the loop required a lot of explaining on my part, and we could have been much more effective had he known most of it beforehand.
Make a decision and move on.
Pinterest, the knot, and Green Wedding Shoes are all awesome resources for inspiration. I don't think my wedding would have been nearly as put together without them (in all honestly, without the knot and Google I would have been completely lost). But for a bride-to-be, they can also completely overwhelm you. One day you want a sparkly gold and crimson wedding, the next you want it to be Harry Potter inspired (come on, you thought about it for a second – don't tell me I'm alone on this one).
But there comes a point when you need to simply make a decision, and never look back. This was probably one of my most valuable lessons learned from our two year engagement. In certain situations I can be a bit wishy-washy, and the entire process really forced me to figure out what I really wanted, make a decision and move on to the next task. I ended up being 10x more effective, not to mention it made things a lot easier in the long run.
Should I buy this pretty cake topper from BHLDN? Nope, don't even give it a second thought, I already decided I wanted flowers. Next!
If at all possible, push

 up your timeline by a full week.
This was one thing I did that made me incredibly glad after-the-fact. Get to a point where you can let the wedding week stress go, so you can soak in all these special moments. Our best man and his fiance flew in early, and the night before our rehearsal dinner we were able to celebrate her birthday all together, grabbing a few drinks at a rooftop bar, having an incredible dinner and heading out for one after. I would have been incredibly sad to have missed such a fun night out if I had to stay back and organize my centerpieces.
I know this isn't possible for everyone to do, but if you can manage it at all, I would highly recommend trying to get things set as early as you can. This is the one time of your life all your best friends and family will be in one spot, after all. Enjoy it!
Take some time to relax before the big day.
The week before our wedding, one of our groomsmen gave us an absolutely awesome pre-wedding gift. We went over to Float Milwaukee, and spent an hour floating in epsom salt baths. It was so healing, and extremely relaxing – the perfect way to ring in the wedding week! You should definitely give it a shot (upcoming wedding or not)!
Keep your focus on what it's all about.
In the end, the most beautiful thing at your wedding will be you marrying your best friend. The rest is just a bunch of icing on your wedding cake!
Steal a few moments alone with your husband.
On our way out to our rehearsal dinner, my then-fiance and I were talking to the valet at the Brewhouse Inn & Suites (seriously, the valets there are incredible – and no, I never thought I would say that), and I swear to god, I almost started crying. He told the both of us to make sure we  stole a few moments alone. Before walking into their reception, him and his wife took a second in the limo together to let it all sink in. He said to her, "Are you ready to walk into the biggest party of your life, thrown especially for you?" They said looking back, if they could relive any moment from their wedding, that would be it.
I loved stealing these moments on our big day. They are ones I will never forget.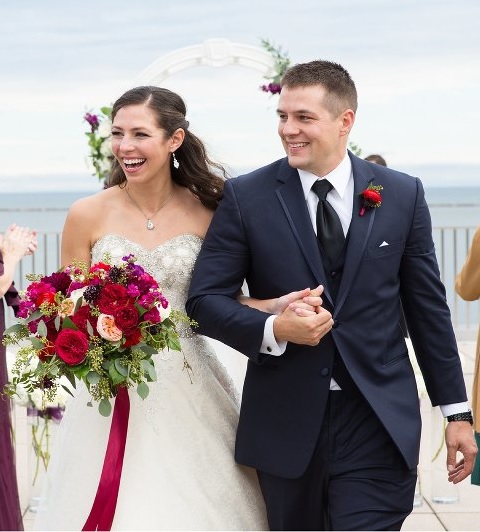 Photo credit: My favorite picture so far, taken by Shaffer Photo.
. . . 
Sending much love your way!
xoxo,
Zoe