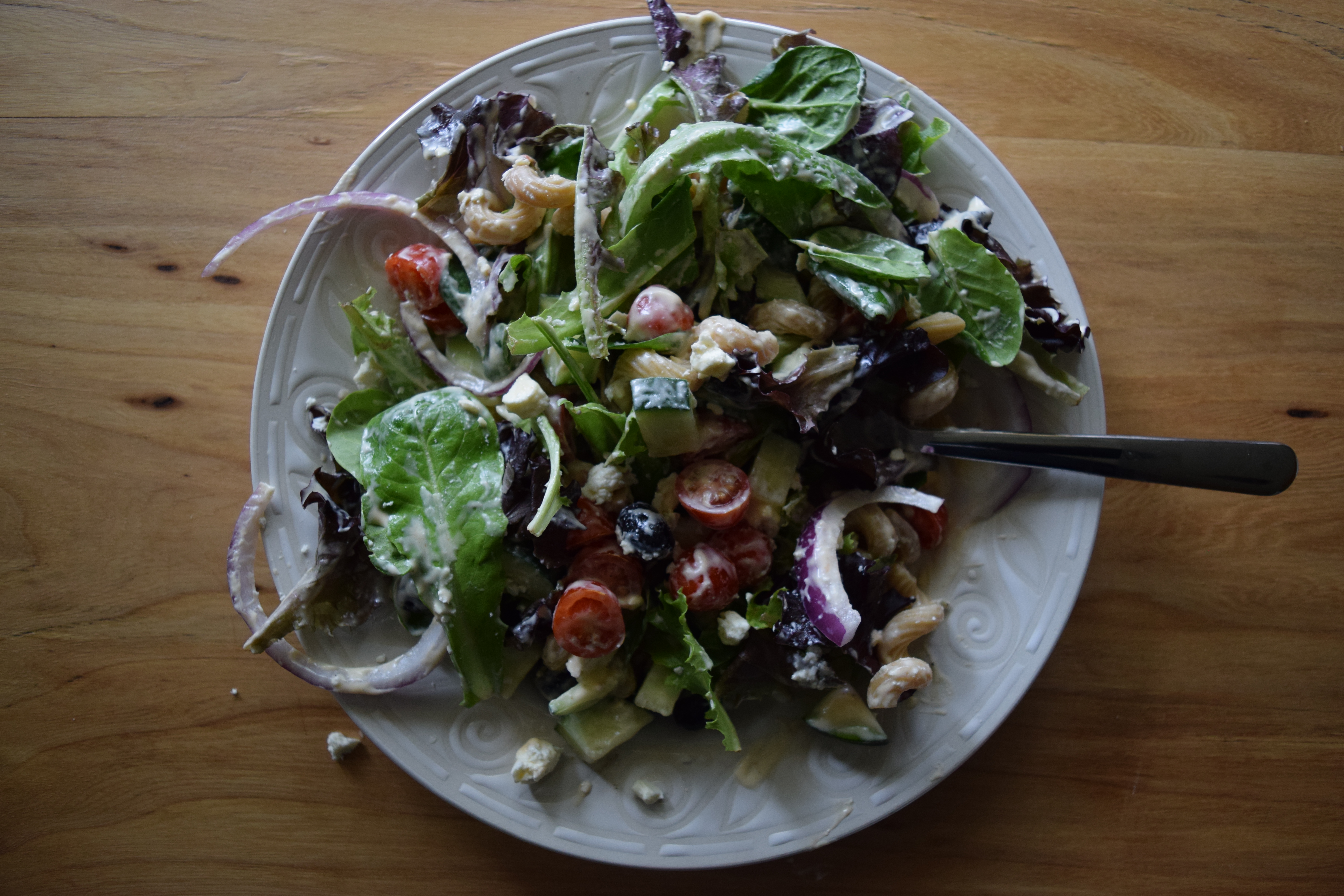 Mediterranean Salad
The last two weeks have been nothing short of amazing – but they have also been incredibly busy! Throughout all the excitement, wedding and mini moon festivities, I only completed one workout from start to finish. And that wasn't for lack of packing all my favorite workout gear! It just wasn't a top priority. Instead, my focus was on soaking up every second and enjoying some much needed rest and relaxation.
Sure, my husband and I tried our best to stay active while on our trip, taking long walks and climbing the steepest set of stairs we could find for optimal sunrise-watching opportunities. But nothing super intense. And our eating, though decently healthy, leaned more towards abundance and decadence than usual.
This may surprise you, but it was just what I needed!
I'm not going to lie, when it came to my workouts and eating habits, I had been feeling a little uninspired. I'm sure as many brides are all-too-familiar with, over-training and stress can definitely leave you feeling drained. I was between workout programs, and when it came to healthy eating I was sticking to the basics simply due to lack of time and my focus being elsewhere.
From this perspective, it was best to take a step back and relax a little bit. It was the ultimate refresher, and I am so excited to get back to creating some awesome recipes and workouts to share with you all! This weekend ended up bein the perfect chance to create a recipe I had been meaning to work on for quite some time. It is inspired by one of my absolute favorite to-go meal options – the Med Salad from Noodles & Company. I am pretty excited about the results and I think you will be, too! Give it a shot and let me know what you think.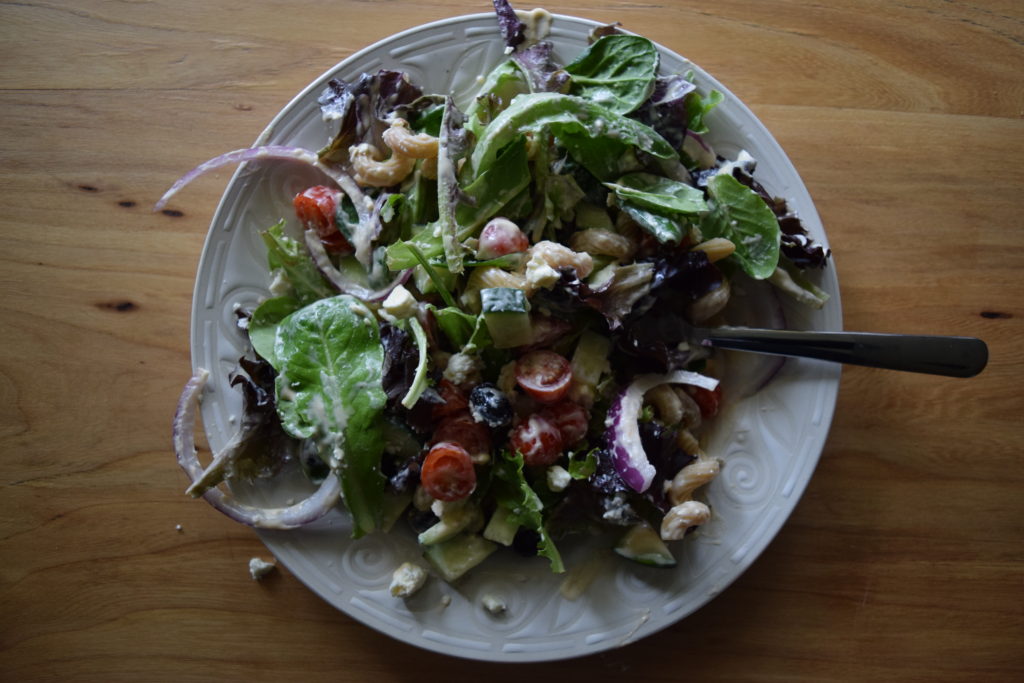 Mediterranean Salad 
Serves 1
Large handful Mixed greens
3/4 cup Whole wheat cavatappi, cooked and chilled
1/4 cup Feta cheese, crumbled 
1/2 cup Grape tomatoes, sliced in half 
1/4 Red onion, thinly sliced
1/4 cucumber, diced 
1/4 cup black olives, pitted
Dressing:
Juice from half of a Lemon
1/2 clove of Garlic, minced 
1/4 cup Greek yogurt 
1 tsp Hot sauce 
1 tbsp Feta cheese
1/4 cup Olive oil 
Salt and pepper, to taste 
While you're cooking your whole wheat pasta (according to package instructions), start dicing and cutting up your vegetables. Assemble the base for the salad, including the mixed greens, tomatoes, onion, cucumber, black olives and feta cheese. When the whole wheat pasta is cooked to your liking, go ahead and throw it in the fridge to cool while you mix up your dressing.
The dressing took me a couple shots to perfect, mainly because the greek yogurt, lemon juice and olive oil weren't blending evenly. In order to emulsify your ingredients properly, I recommend starting the dressing by blending together the lemon juice and garlic. Next add in the greek yogurt, hot sauce and feta cheese, blending  it into your lemon juice mixture thoroughly. And finally, slowly add in the olive oil, little portions at a time. This will create an even blend and the dressing will end up looking much more appetizing, I promise!
Once your dressing is all ready, top your salad with your chilled pasta, and drizzle your dressing over everything. You will only end up using about half of the dressing you make for this salad. Toss the salad, coating everything evenly. Quick tip: The fresh garlic in this dressing recipe will strengthen over time. If you are going to keep the dressing for a day or so, you may want to be a little more conservative with the amount of garlic you add to the dressing.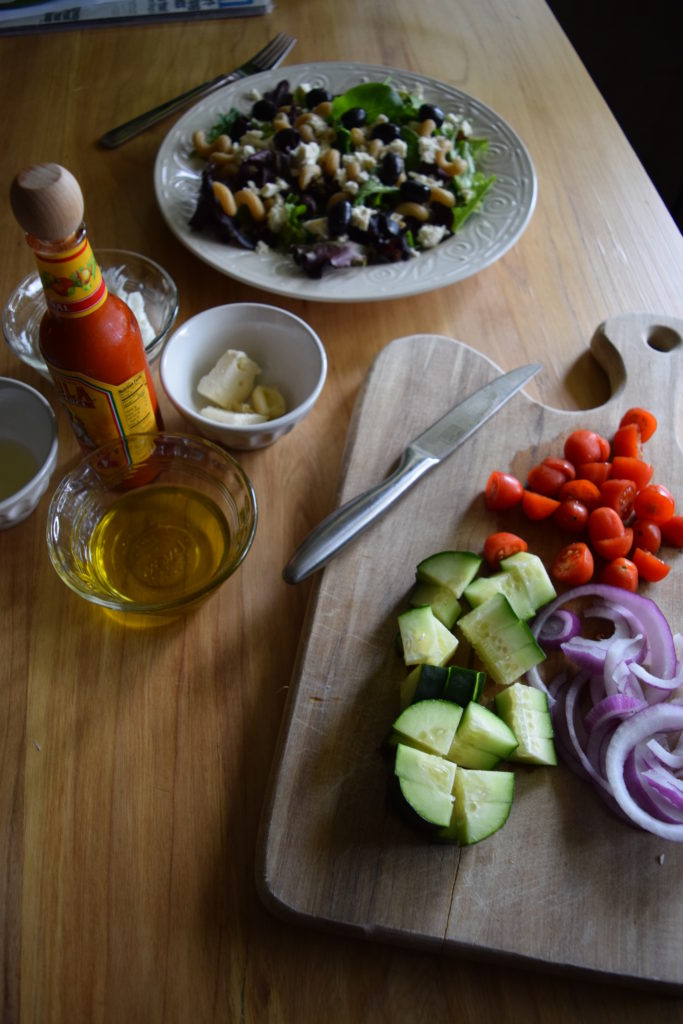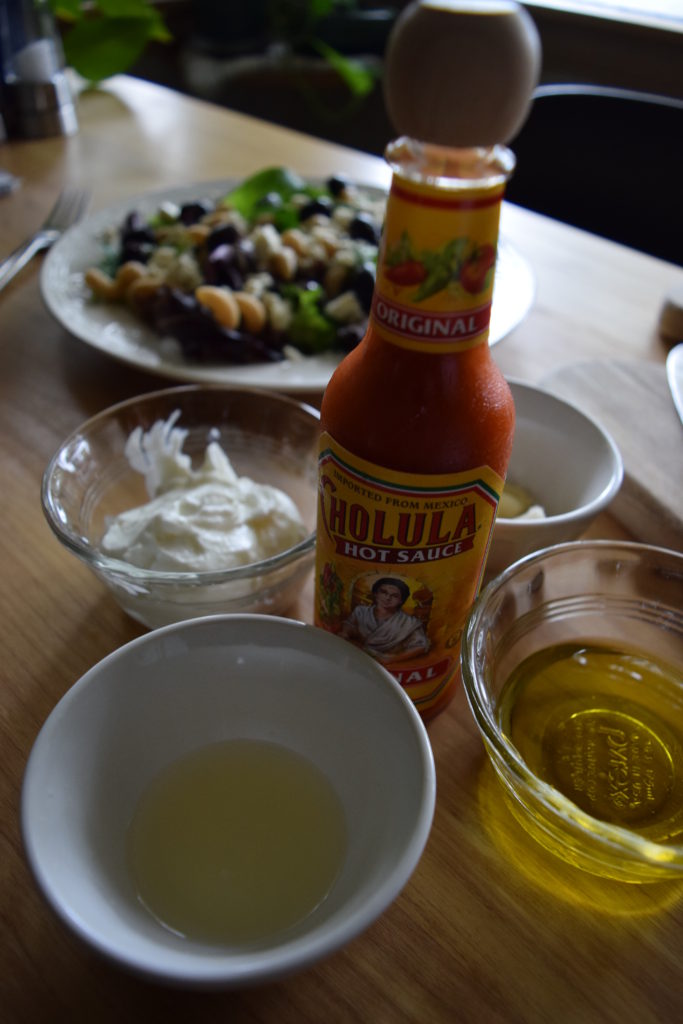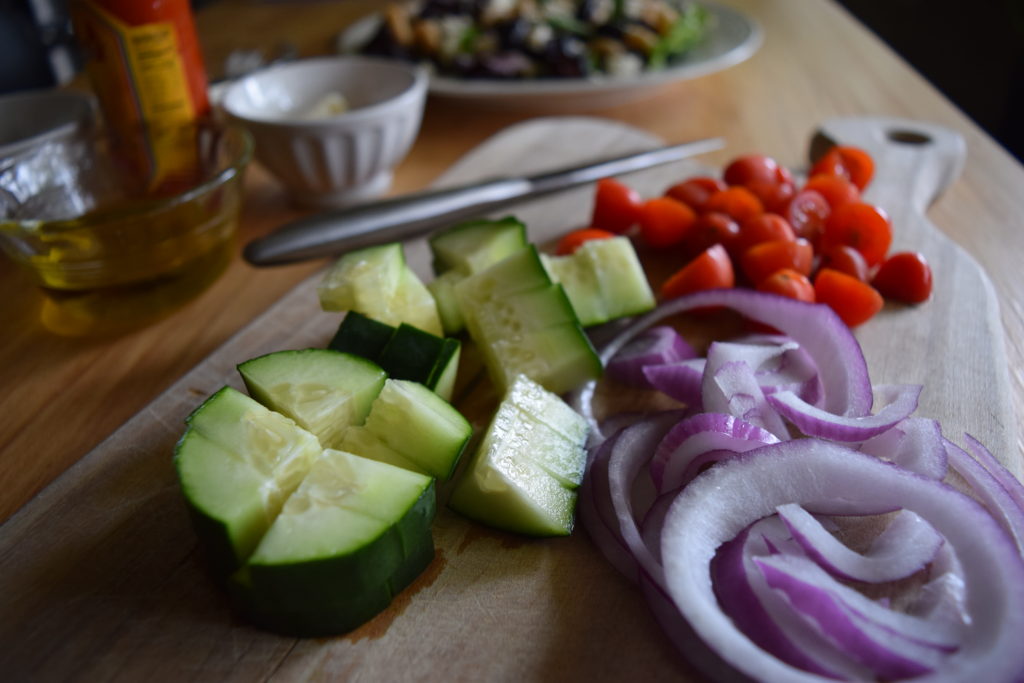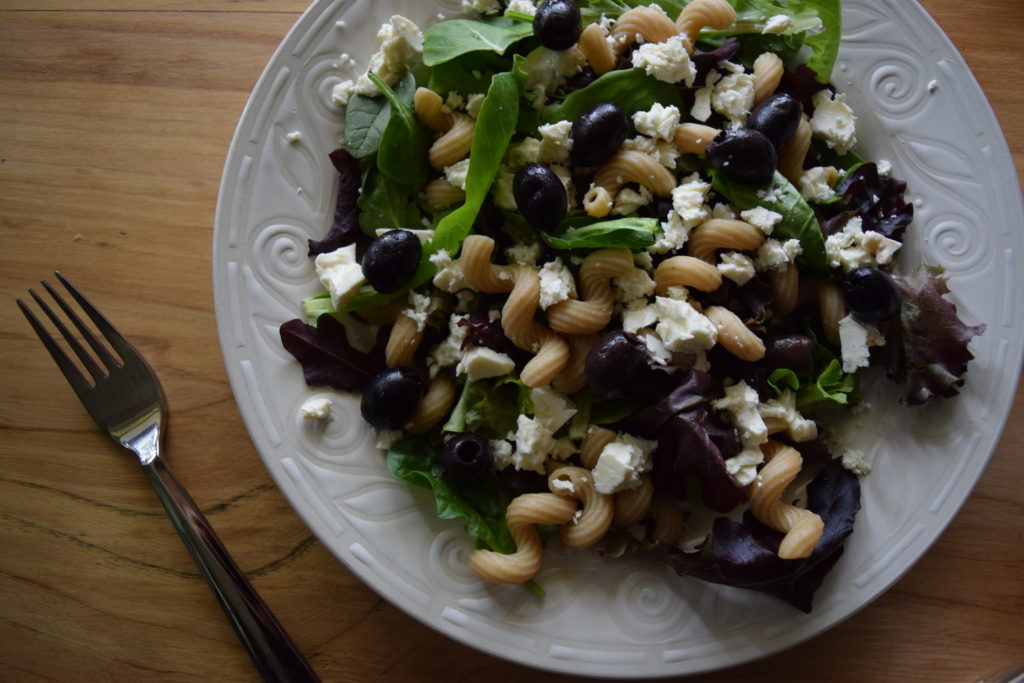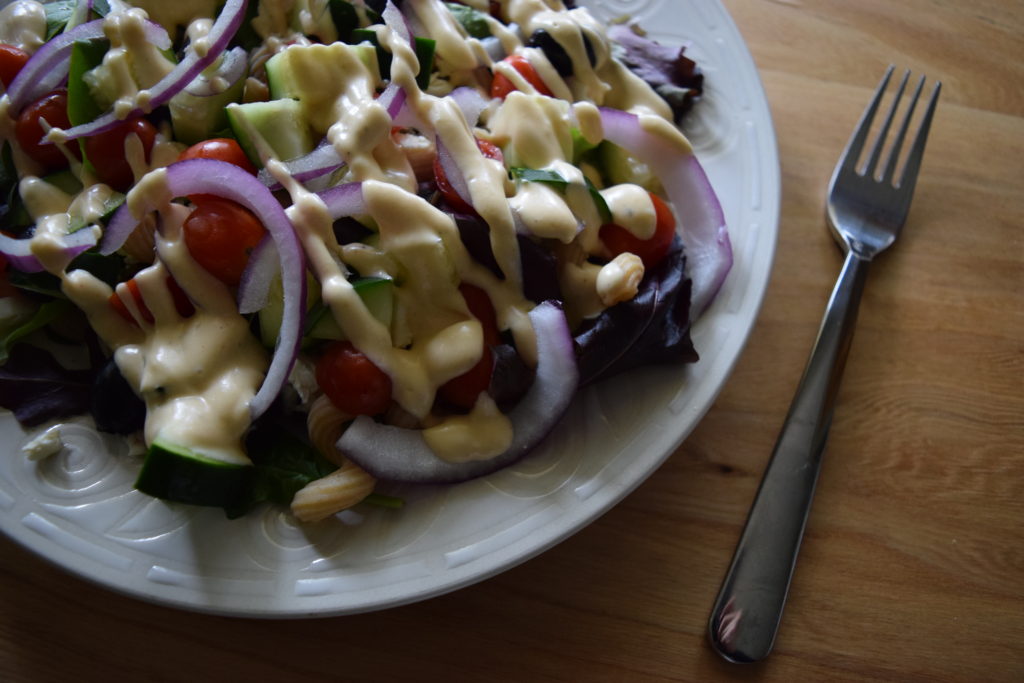 xoxo,
Zoe Lauryn
. . . 
What do you struggle with most when it comes to health and nutrition? Are you in a rut like I was? Comment below, send me an email at [email protected], or reach out to me on social media. I want to hear from you!