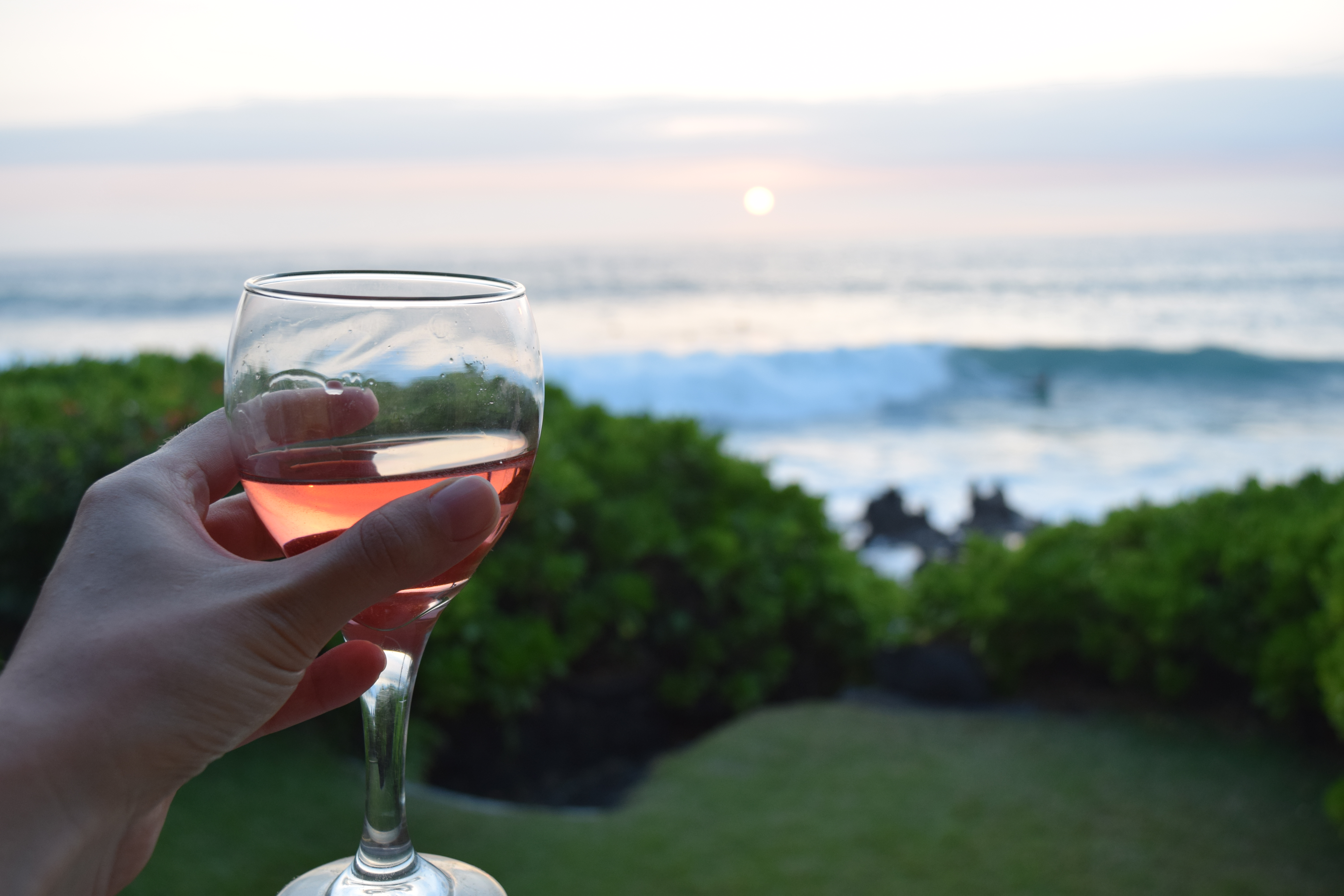 How to Eat Healthy While Traveling
Whether you're on-the-go, on vacation or celebrating a holiday, the way you eat and move may change slightly, but it doesn't have to change drastically.
Simply because you are going on vacation does not mean you have to sabotage all of the hard work & effort you've been putting in to live a healthier, happier life!
I used to travel extensively for work. It wasn't uncommon for me to be away from home for weeks at a time. There was one instance where I hopped on airplanes in 6 different cities in just two weeks. I was constantly on the go, go, go!
Lucky for you, that means I have plenty of strategies to eat healthy while traveling!
Here are a few of my favorite tricks you can use to prepare yourself before you even leave for vacation:

Plan to stay hydrated by bringing a reusable water bottle along with you if you can! (If you're not able to, or if you forget, simply make it a priority to drink water with every meal!)
Pack ahead with healthy food options. Fruits & veggies a great on-the-go, minimal prep kind of snack (think: apples, oranges, bananas, peppers & carrots! Kind bars, Larabars & packs of almonds or trail mix are also great.
While your on vacation, use these strategies to help you maintain a healthier balance, make better decisions & eat healthier:
Stop by the local supermarket when you get into town & get settled. Grab healthy foods & snacks so you have healthy ready-to-eat options at hand.
Prioritize protein. This will help you stay full while you're exploring a new place! Choose eggs with your breakfast, have a chicken salad for lunch and fresh seafood for dinner. Get creative if you need to, but have fun with it!
Include fruits & veggies with every meal. Order a side salad or have a side of fruit. By adding in fruits & veggies, you'll naturally avoid some of the less-healthy side options that ramp up your calorie intake (like fries and other fried foods).
Avoid boozy beverages and opt for tea, sparking water or coffee. If you know this isn't a feasible option for you, take your time with each drink, sipping it nice & slow. Alternate your drinks with water so you stay hydrated. Aim for maintaining a healthy balance, and limit your drinks to 2-3 in a night.
Scope out restaurant menus ahead of time. Choose a few healthy meal options before you even go, so when you get there you can make a smarter decision. So often when we get to a restaurant while traveling, we are starving and choose based on cravings instead of making a healthier choice. Coming prepared can help you stay on track.
Prioritize sleep! Take naps when you can, go to bed at a decent time or plan time to sleep in. Getting enough sleep will allow you to keep a level head and make better, healthier decisions!
Constantly be on the hunt for the healthier options wherever you go. So often I hear from people telling me they can't find healthy options when they are busy or on vacation. The hard truth is, that often you just aren't looking hard enough.
Here are a few commonly found restaurant options for healthy eating while you are traveling, in airports & on the road:
Airport & Gas Station Goodies: Hard boiled eggs, salads, fruit, yogurt parfaits, string cheese, hummus cups, almonds, peanut / almond butter.
Starbucks: Oatmeal, kind bar, cold pressed juice, cafe au lait, tea or a latte (add cinnamon and/or a little honey to sweeten things up if you need), protein bistro box, turkey, bacon & egg white breakfast sandwich.
Panera / Cafes: Veggie based soups & sandwiches, salads with protein. Wraps with extra veggies. Grab an apple, orange or banana for a snack later, too!
And don't forget:
Moderation all the way. Be mindful of not over-doing it. But don't feel like you have to restrict, either. Stop when you are 80% full. You'll end up feeling more satisfied and not over-stuffed this way.
Slow down and enjoy. Focus on really slowing down when you are eating. There is absolutely no rush to shovel a bunch of food in your mouth. There is an absolute abundance of food around – especially while on vacation. Enjoy every mouthful!
Simply do your best. That's all anyone can ask of you!
Zoe
P.S. If you haven't already done so, make sure to subscribe to my email list! By signing up here, you'll be signing up for exclusive content, including free workouts, yummy recipes, thoughtful mindset work and more. You don't want to miss out!