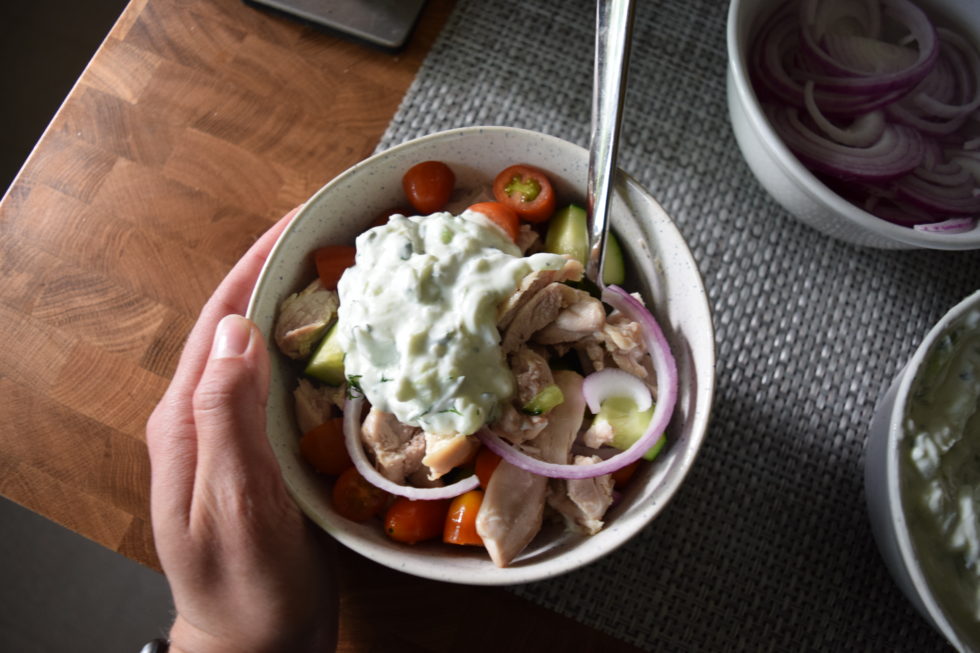 Greek Chicken Bowls
These Greek Chicken Bowls are healthy, delicious and easy to make! Topped with my Greek Yogurt Tzatziki recipe, it's a light and refreshing power bowl with fresh veggies, chicken and orzo.
This recipe was made with all you meal preppers in mind! It serves 4-5 people, or "one bowl now, 4 delicious meals later." Or somewhere in between! Enjoy!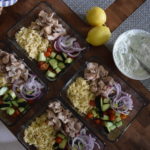 Greek Chicken Bowls
Ingredients
2

lbs

Boneless skinless chicken breasts

2

Cucumbers

chopped

1

pint

Cherry tomatoes

halved

1

Red onion

thinly sliced

4

cups

Orzo

cooked
Instructions
In a skillet, heat about a tablespoon of olive oil over medium-high heat.

Add chicken to the pan when it is hot, and cook on each side for about 3-4 minutes, or until the chicken gets up to 165 degrees.

Set the chicken aside to cool. Add salt & pepper to taste (optional). Once it is cool enough to handle, cut into bite size pieces.

While you wait for your chicken to cool down, chop & slice your veggies.

Cook orzo according to package instructions. Here's what I did: In a large sauce pan, boil 3 quarts of water. Add 1 1/2 cups orzo. Boil until al dente, around 8 minutes. Drain.

Make Greek Yogurt Tzatziki (recipe follows). Great to do while cooking your orzo!

Once all elements of your Greek Chicken Bowl are prepared, divide each element until 4-5 servings and serve or place into meal prep containers. Keep for 3-5 days in fridge or enjoy right away!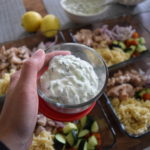 Greek Yogurt Tzatziki
Ingredients
2

cups

Greek yogurt

1

Cucumber

shredded

1

Lemon

juiced

4

Cloves of garlic

minced

1 1/2

tbsp

Fresh dill

finely chopped

Salt & pepper

to taste
Instructions
Prepare all ingredients as noted. Gently press the juice from the shredded cucumber and discard.

Mix together the greek yogurt, shredded cucumber, lemon juice, minced garlic, dill, salt and pepper.

If able, chill the tzatziki in the fridge for an hour or so, letting the garlic and other flavors meld together more fully.

Serve chilled, with pita bread or a main course like these Greek Chicken Bowls!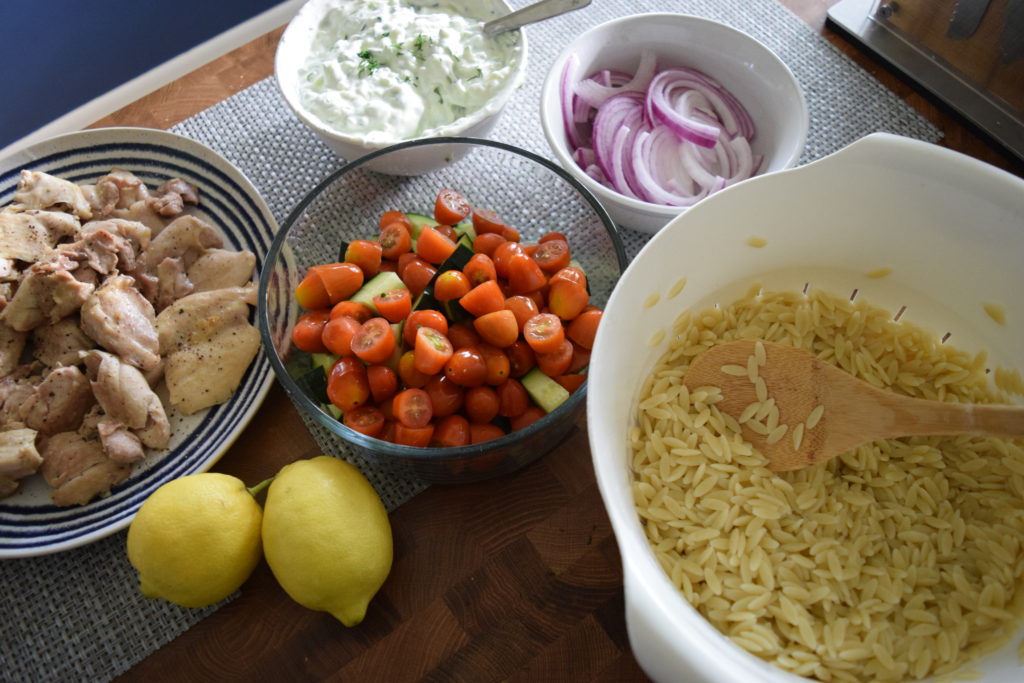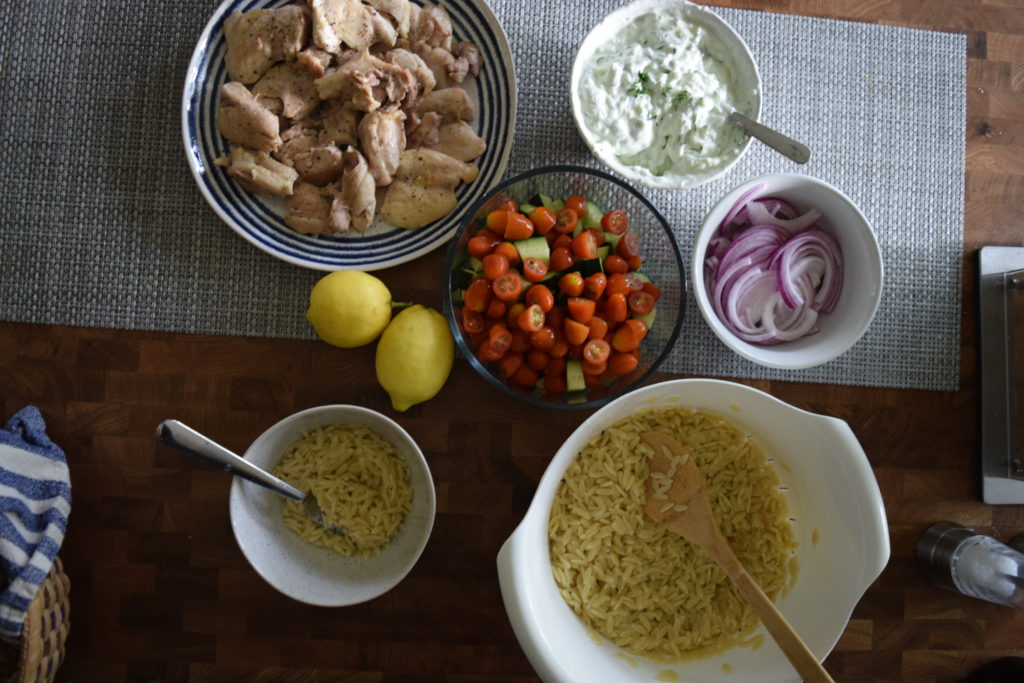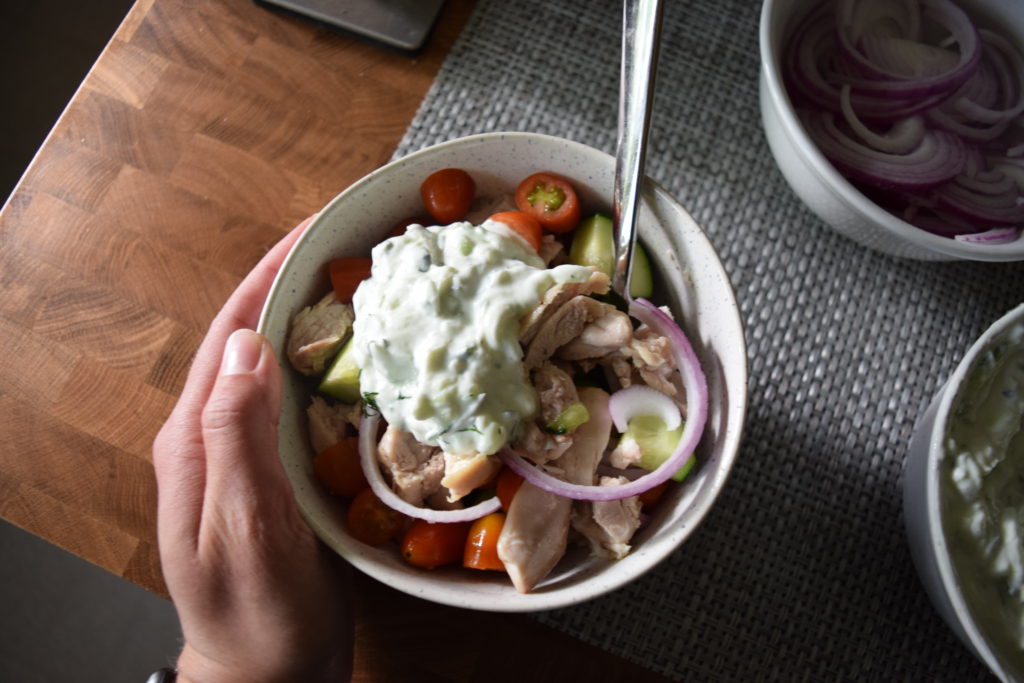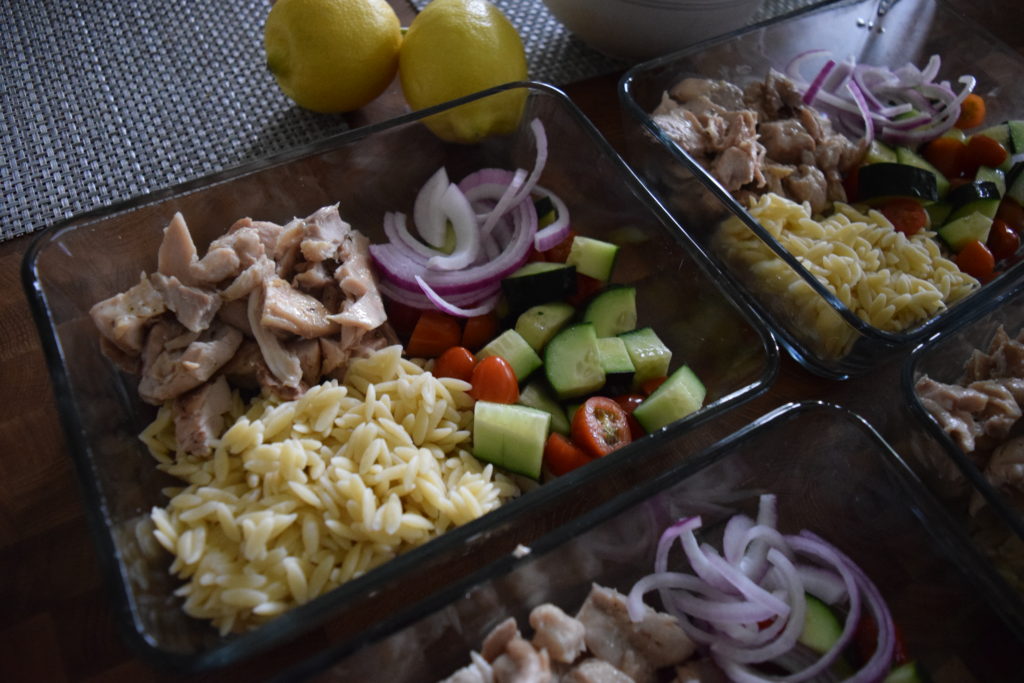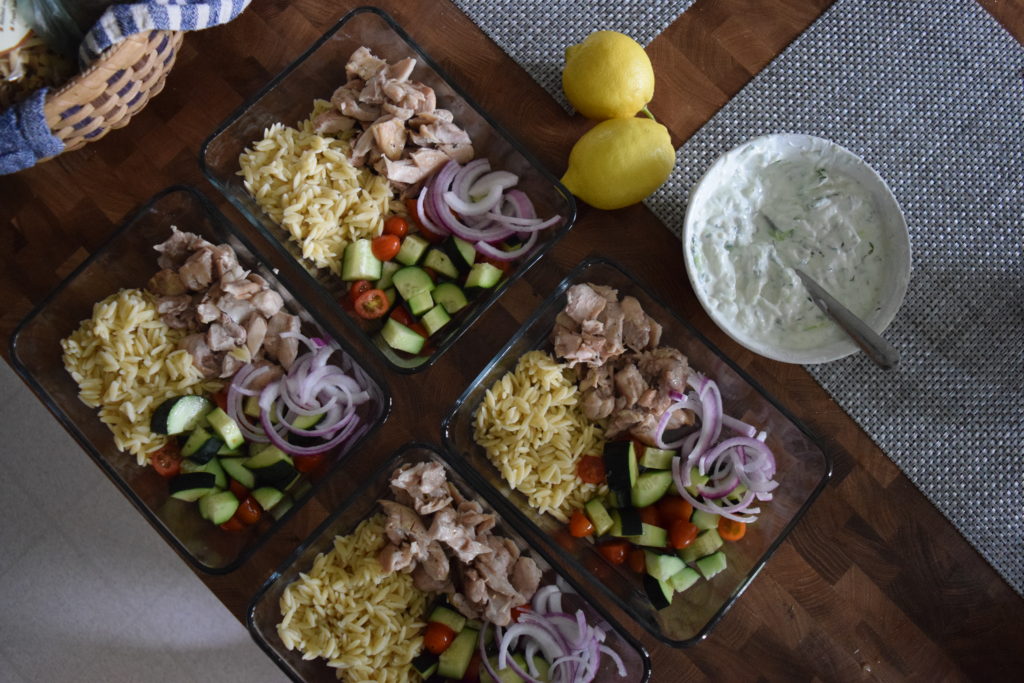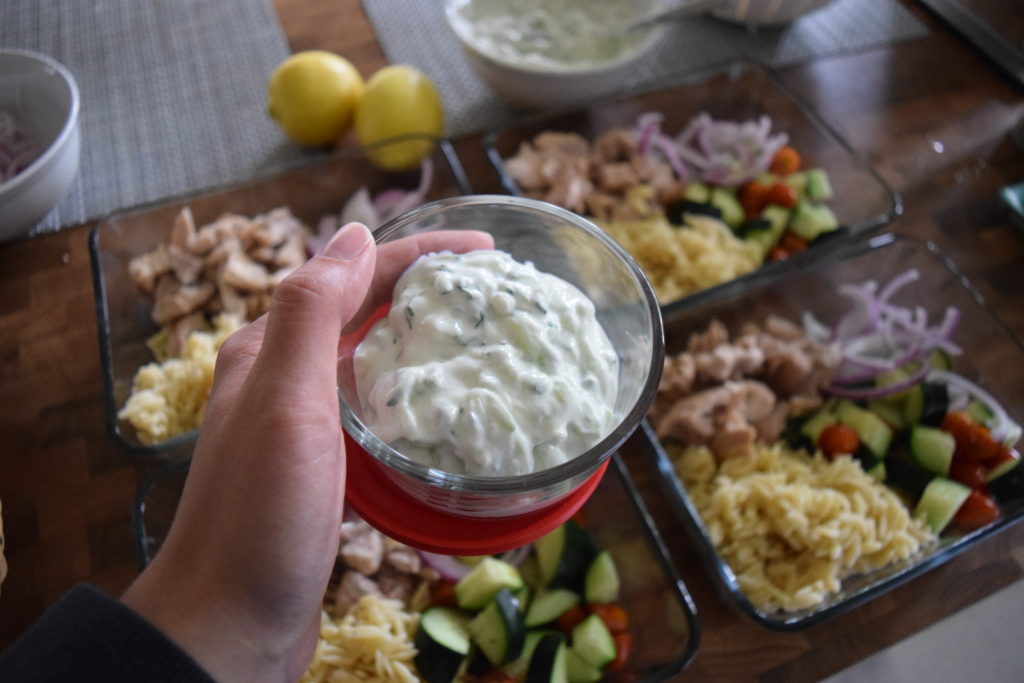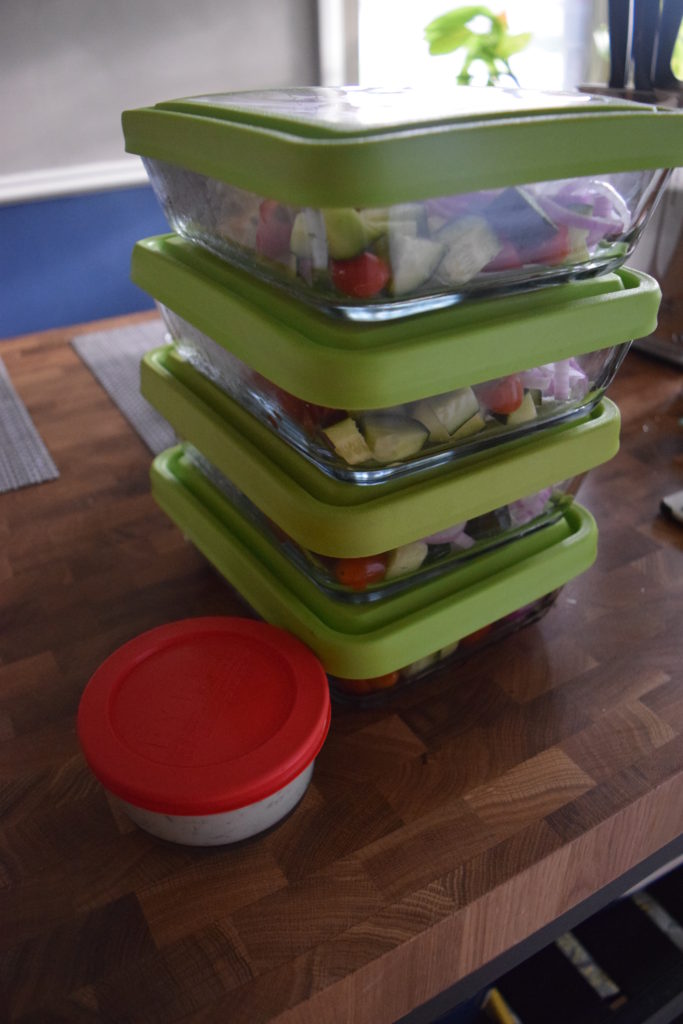 xoxo,
Zoe Lauryn
P.S. You can find more healthy recipes here! And if you haven't already done so, make sure to subscribe to my email list! By signing up here, you'll be signing up for exclusive content, including free workouts, yummy recipes, thoughtful mindset work and more. You don't want to miss out!