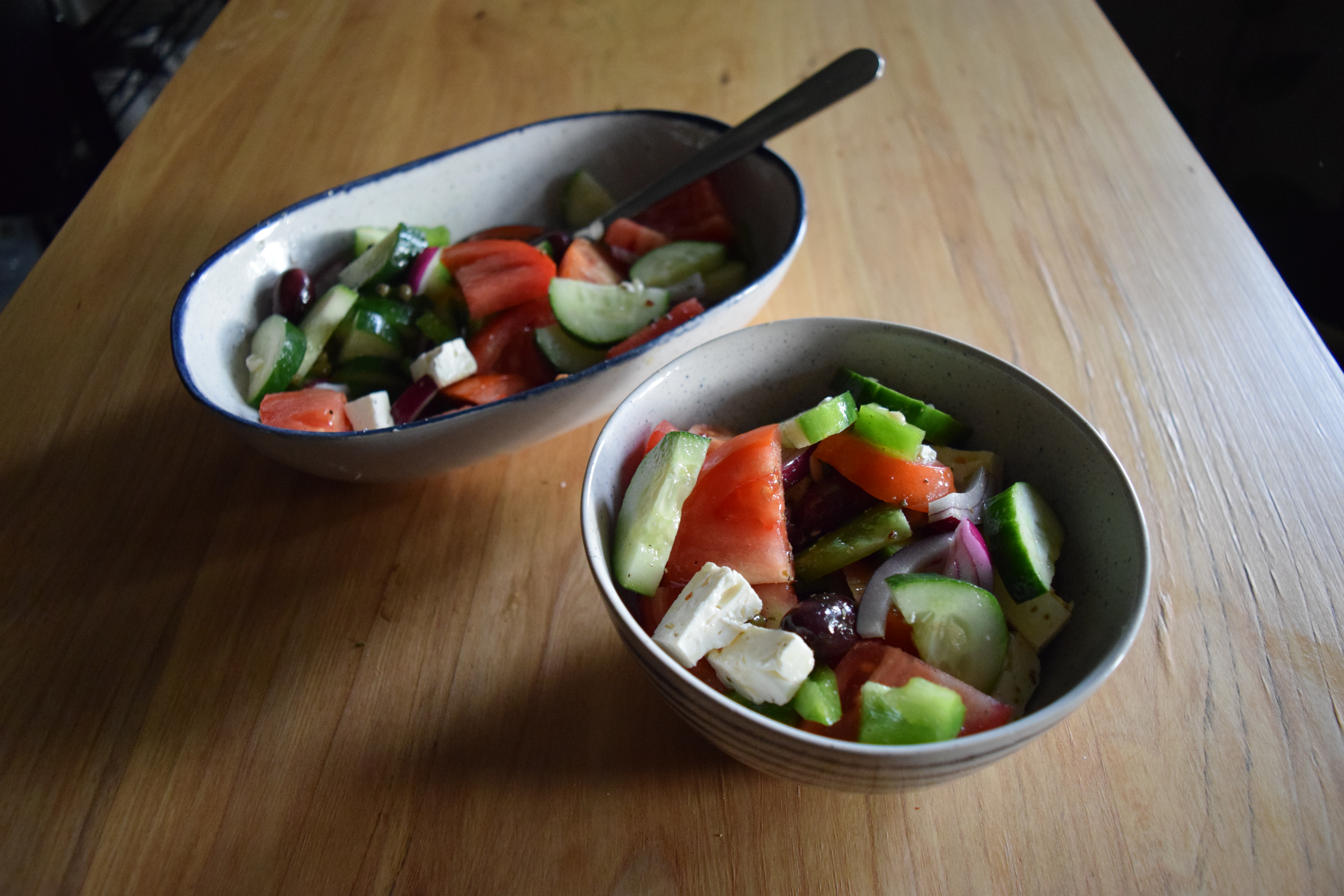 Greek Salad
It is widely known that the Mediterranean diet is one of the healthiest in the world. And for good reason! Vegetables, fruits, whole grains, fish and healthy fats galore!
In Greece, you can find Greek salads everywhere (and yes, they do call them "Greek salads" there, too – something I was oddly curious about). While on our honeymoon, my husband and I ordered one at almost every meal. And when we got back home, I didn't even last 24 hours before making myself another one. I have been working on this recipe to share with you since then.
Here is my perfected version. Enjoy!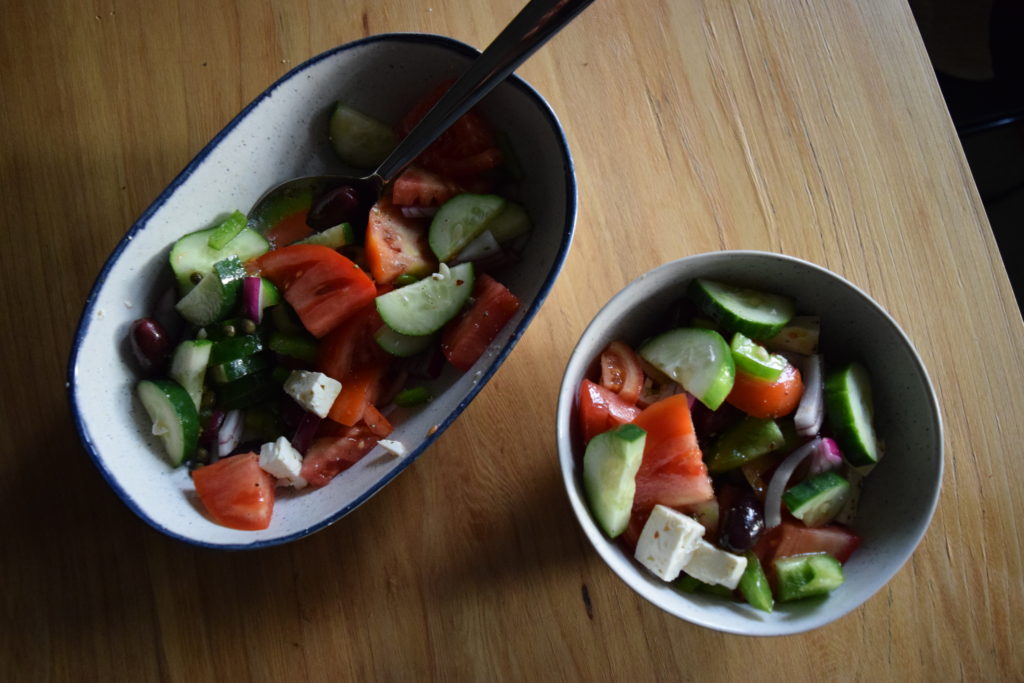 GREEK SALAD
Ingredients
1

cucumber

1

large tomato

1/2

small red onion

1/2

green pepper

1/2

cup

black olives, drained

1/4

cup

capers, drained

1/2

cup

feta cheese, crumbled

4

tbsp

olive oil

2

tsp

italian seasoning

salt & pepper, to taste
Instructions
Slice & dice all fresh veggies & fruits (gotta be politically correct with that tomato thrown in, you know). Combine in a large bowl.

Top salad with crumbled feta cheese.

Drizzle with olive oil and sprinkle your seasonings right on top.

Toss it all together & serve!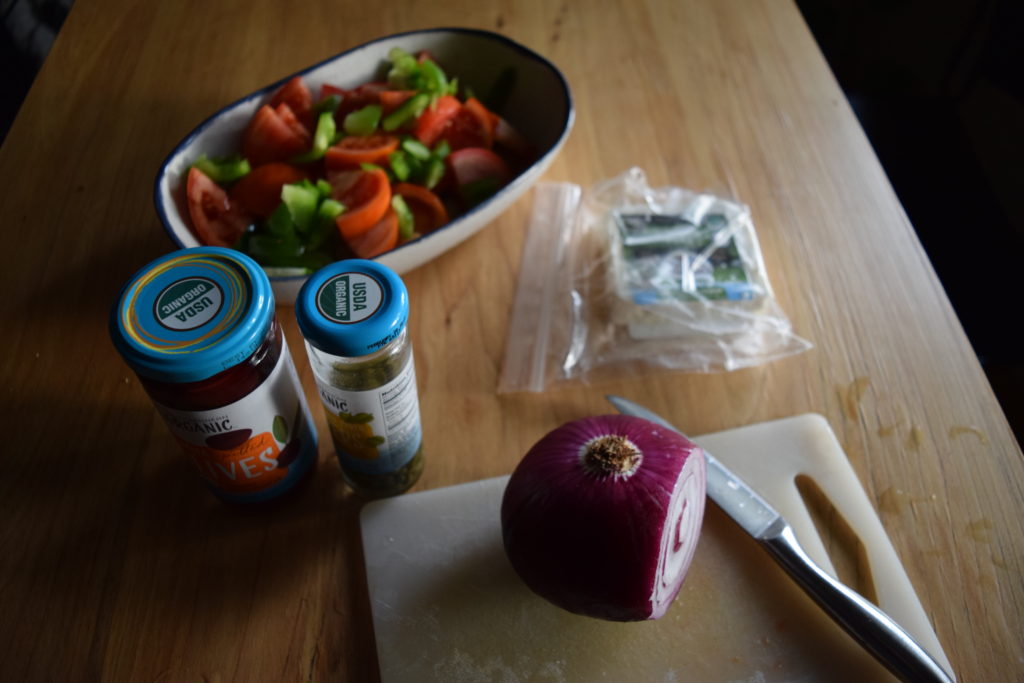 I'm not quite sure why, but I've always had this weird, preconceived notion that salads have to include some sort of leafy green in them to actually be considered a "salad." The Greek Salad changed all of that for me.
Here are my pro tips for taking it to the next level:
Slice your onions and green peppers up finely, and cube the feta cheese into larger chunks. This allows for more creaminess and a fine crispiness throughout.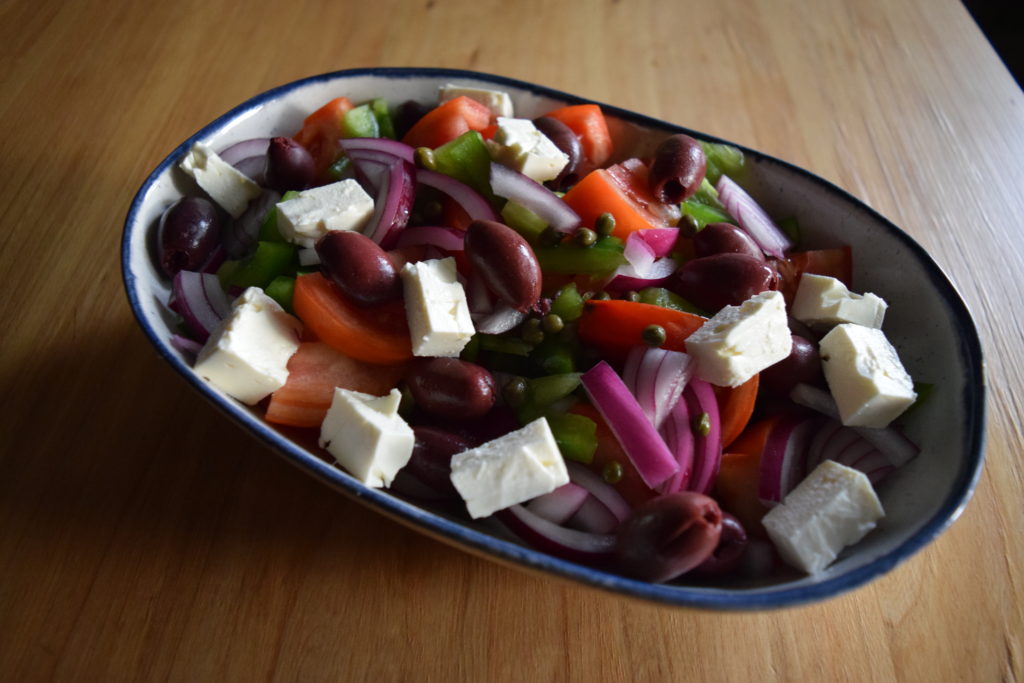 Spend the money on good quality produce for this salad. Buy organic where possible (especially the fruits & vegetables with thin skins because they take in more of the pesticides and yucky stuff used to grow conventional produce).
Find a good quality feta cheese – one that is not quite as dense (it should have a few small holes at it's surface), is white in color (not yellow) and is made entirely of sheep's milk. It should be salty, tangy and easily crumbled.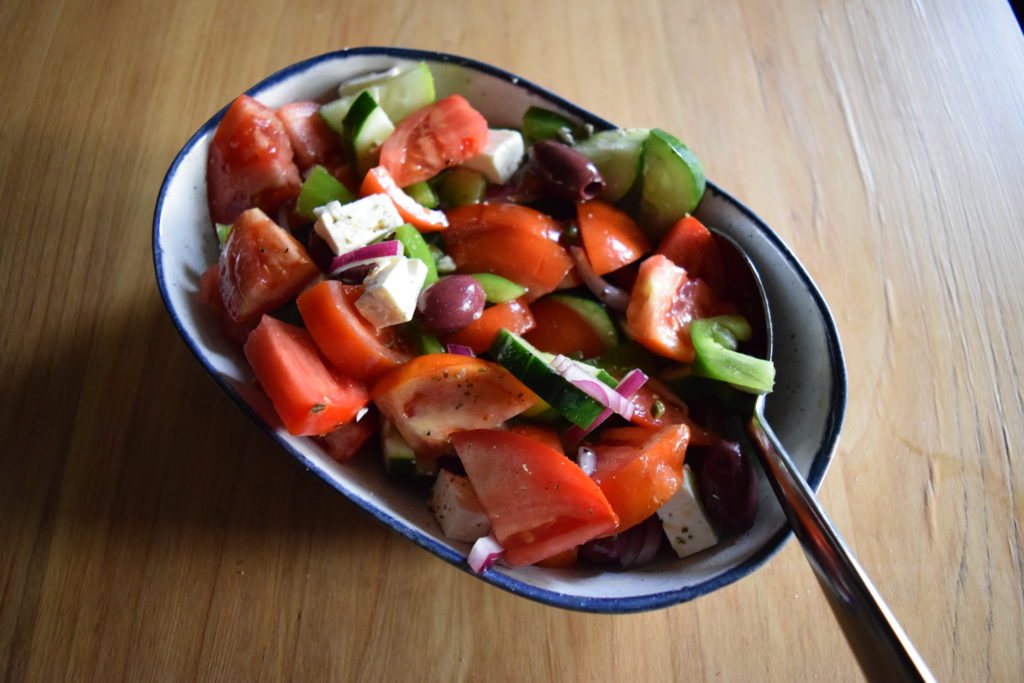 Traditionally this salad is made with olives that still have their pits in them. It certainly makes you slow down and enjoy the salad for all that it is, but if you prefer you can use pitted olives instead. I actually did just that here.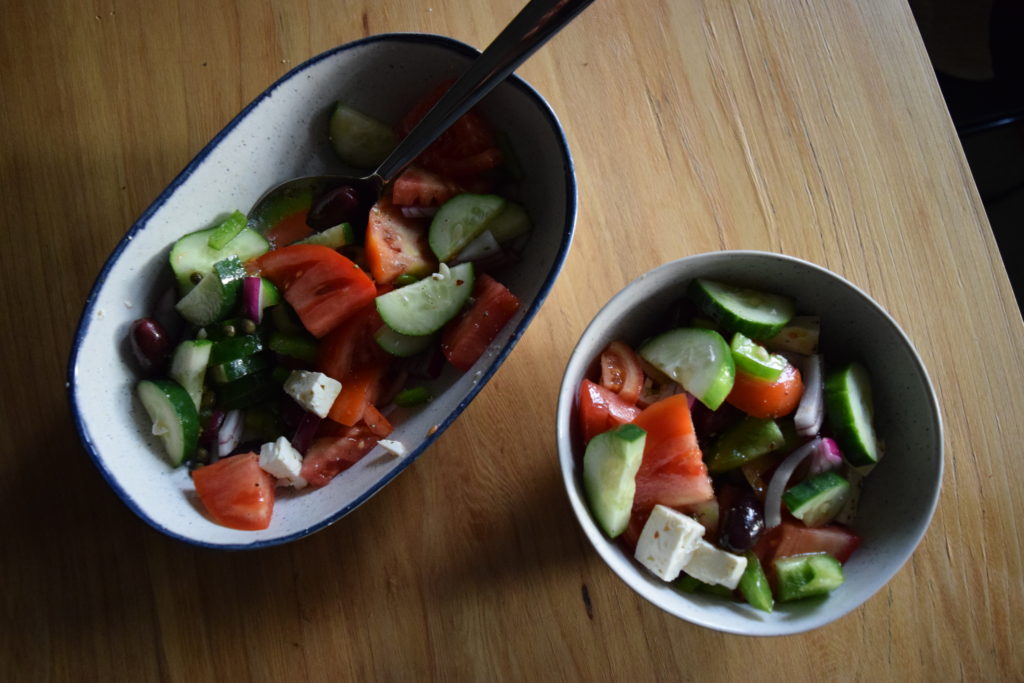 In Greece, foods are ordered to be shared. Next time you have company over, make this salad with a large portion of protein (fish or lamb, perhaps?), another healthy side and pass it all around. In case you need ideas, I have two more traditional Greek recipes coming your way in October. I can't wait to share them with you!
xoxo,
Zoe Lauryn
P.S. You can find more healthy recipes here! And if you haven't already done so, make sure to subscribe to my email list! By signing up here, you'll be signing up for exclusive content, including free workouts, yummy recipes, thoughtful mindset work and more. You don't want to miss out!