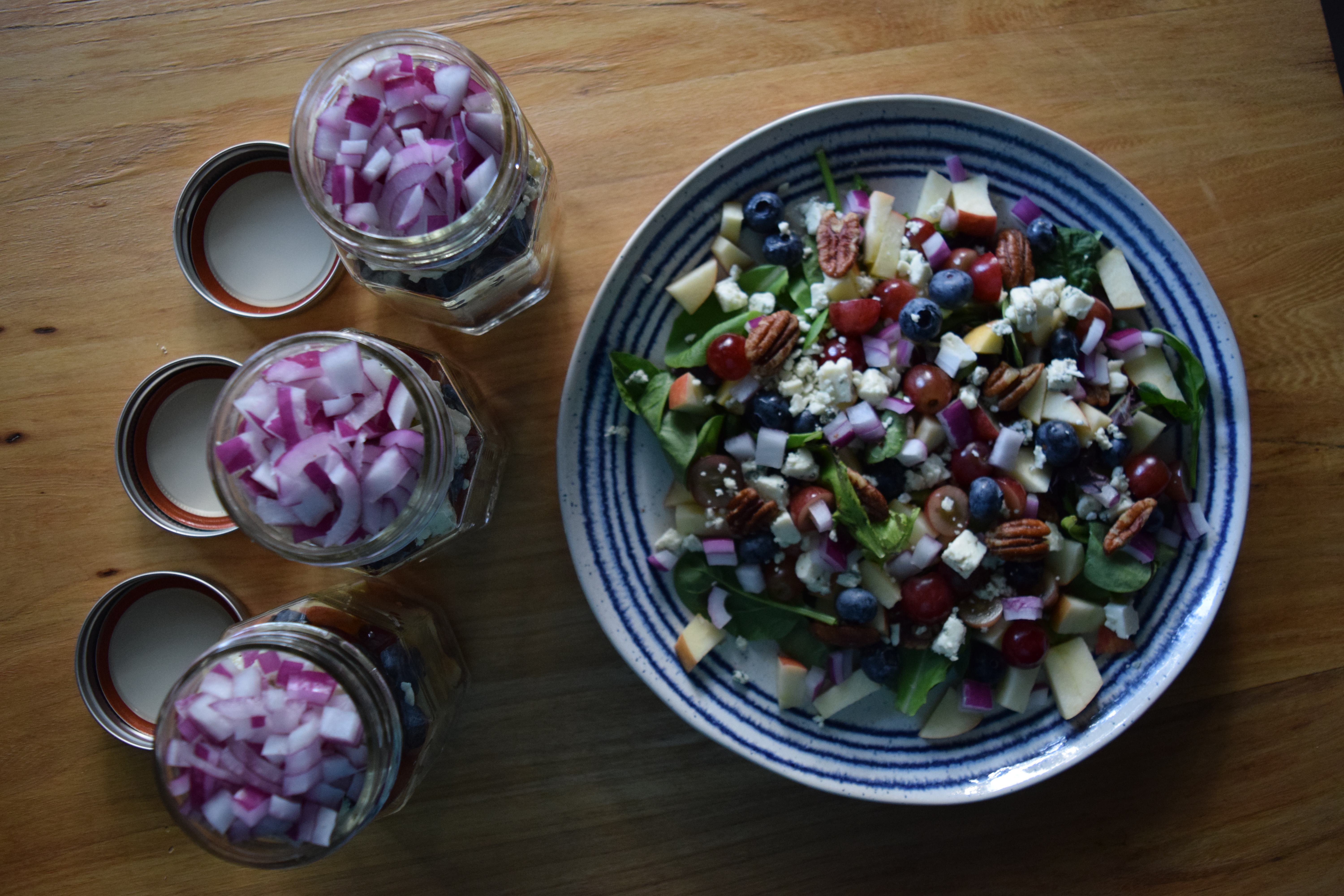 Berry Pecan Salad
Anyone else here too lazy in the morning to prep a salad before going to work? (Hey, they say you should know your strength & weaknesses, right?) Cue my Berry Pecan Salad & the ever-helpful mason jar!
I've been meaning to create a make-ahead salad option for quite some time now. After spending altogether too much money at the salad bar in the building where I work, I decided to recreate my favorite summer salad, but this time package it all together so all I have to do in the morning is grab it and go. The best part about this recipe is that once you prep it, you can leave it in your fridge for up to a week and it still stays just as fresh as day one.
Try it for yourself & let me know what you think!
Berry Pecan Salad
Ingredients
1

cup

Mixed greens

1/4

cup

Pecans

1/4

cup

Apples

chopped

1/4

cup

Grapes

halved

1/4

cup

Blueberries

1/4

cup

Blue cheese

1/4

cup

Red onion

thinly sliced & chopped
Instructions
Chop, dice & slice all ingredients as needed.

Place prepped ingredients on a bed of mixed greens, top with your favorite vinaigrette and enjoy!

Optional: Top with chilled shredded chicken - delicious!

Featured dressing: Salad Girl's Pomegranate Pear Vinaigrette.
To make this an easy grab-and-go meal, put all ingredients (except for the mixed greens) into a mason jar in the same order they are listed in this recipe (pecans go in first, all the way up until the red onion). Refrigerate up to a week.
When you're ready to take it for lunch or dinner, bring along a bowl filled with your mixed greens, your dressing & your mason jar ingredients. When you're ready to eat simply pour the ingredients from the jar into your bowl, shake it all up with your dressing & enjoy!
Please note: In the pictures below I quadrupled the recipe so I could enjoy one large salad 4 times throughout the week. This is super simple to do since it takes a 1/4 cup of each ingredient to make one large salad – turn that into one cup and you've got almost an entire week's work of lunches right there!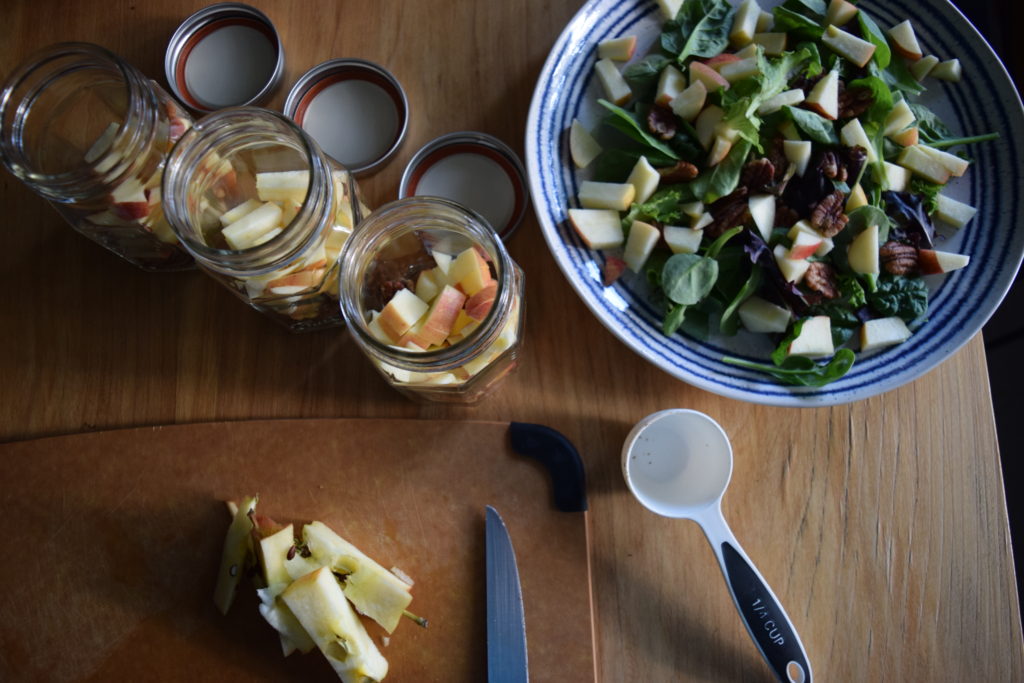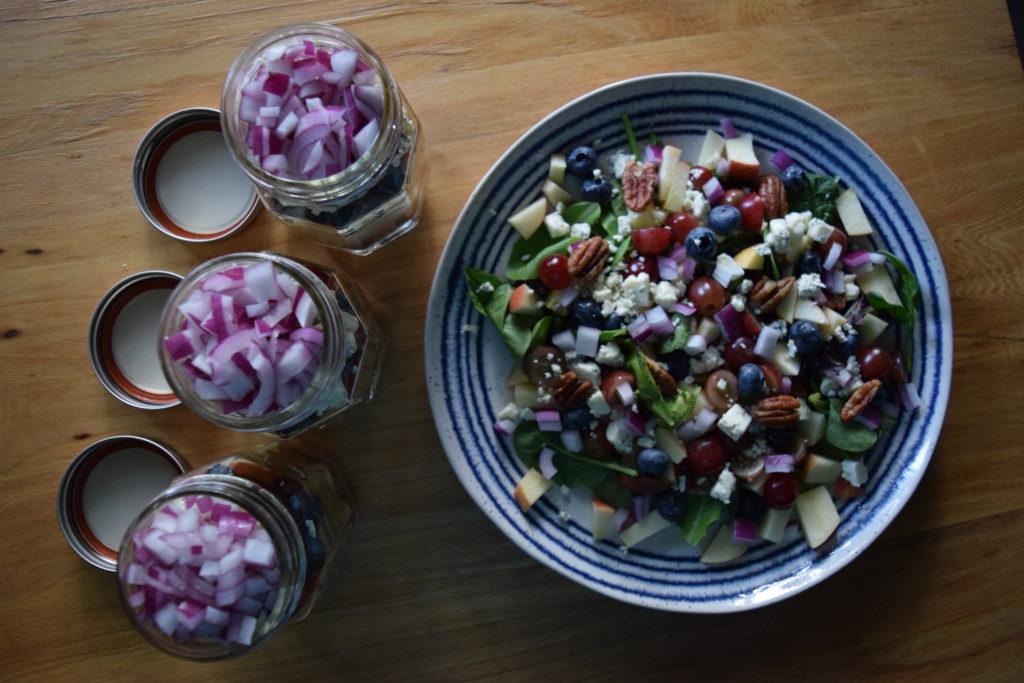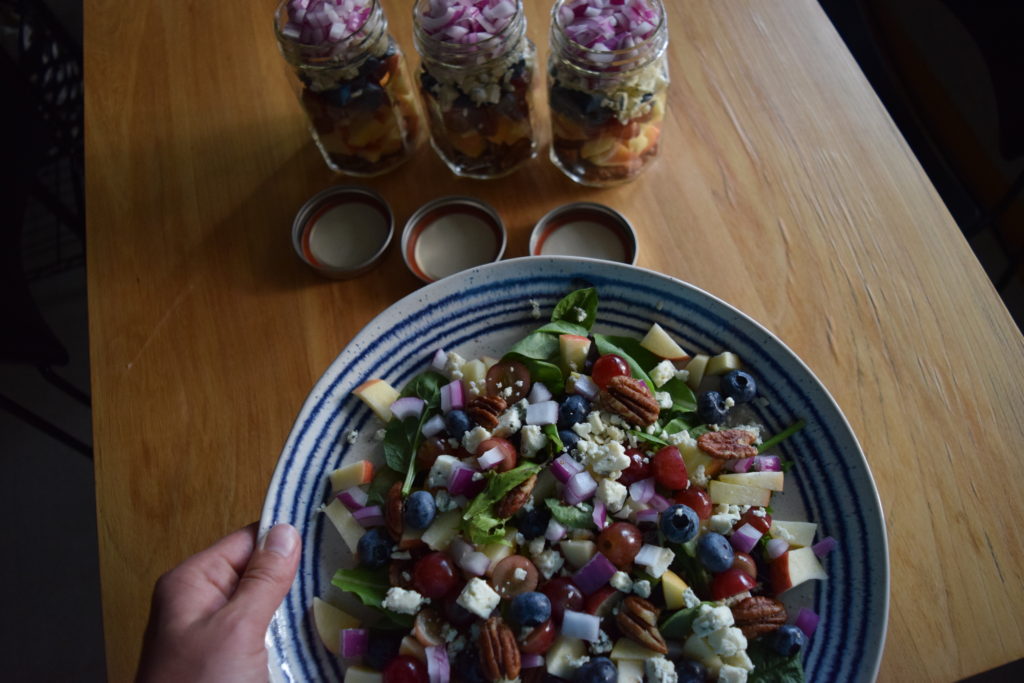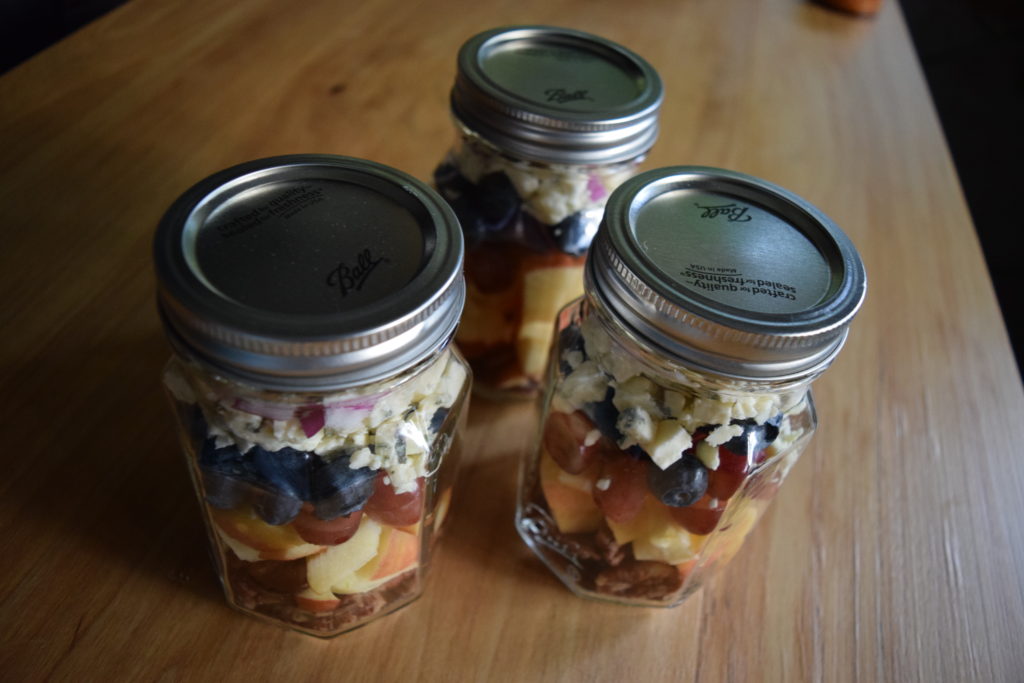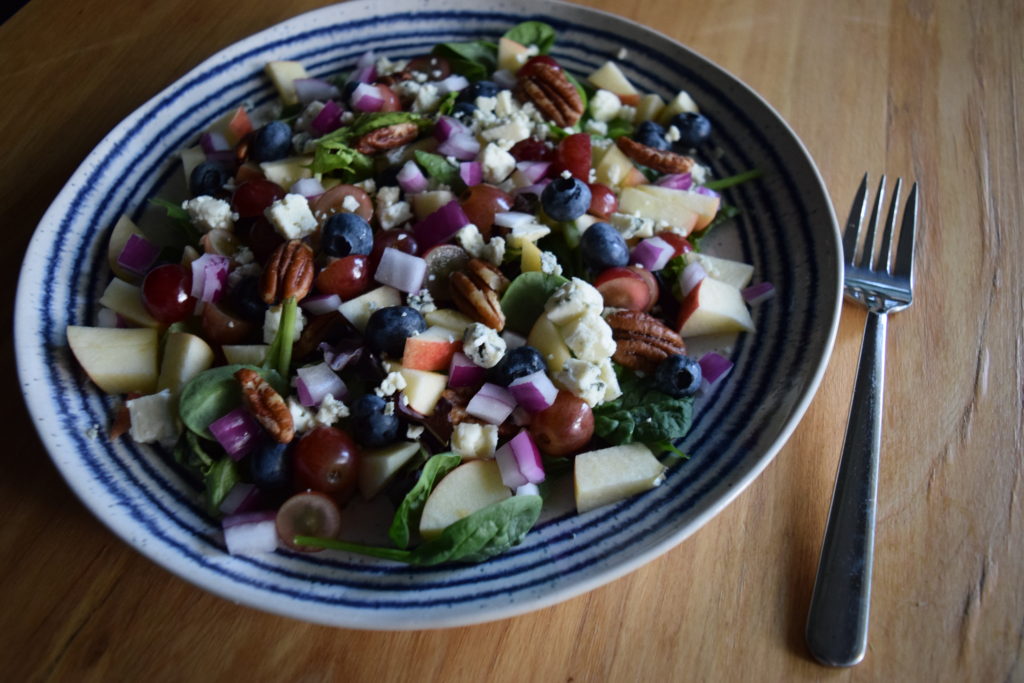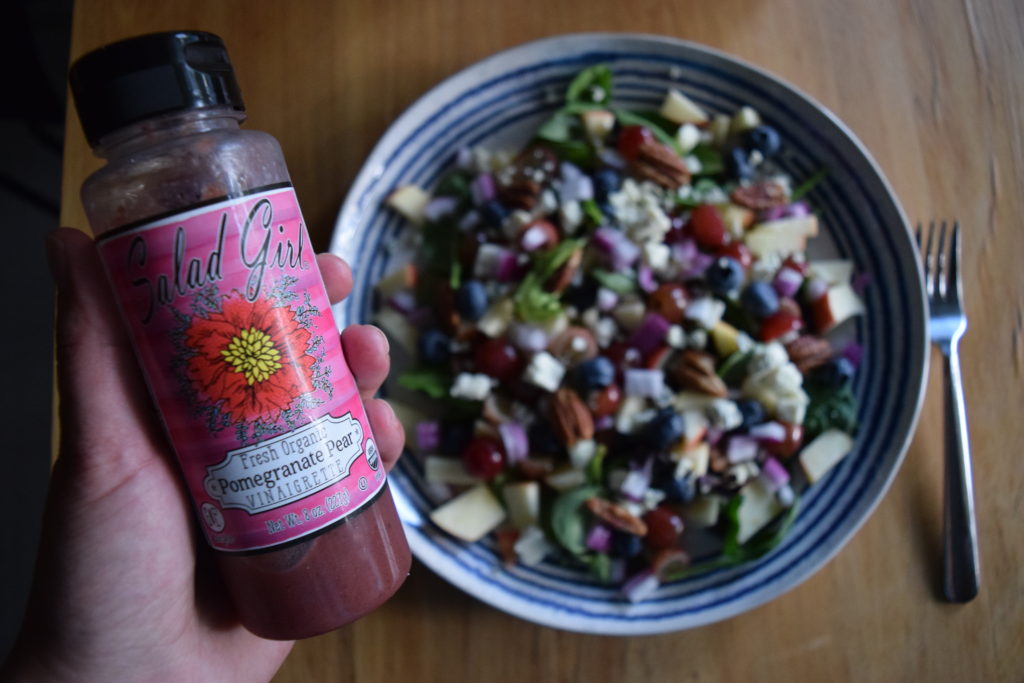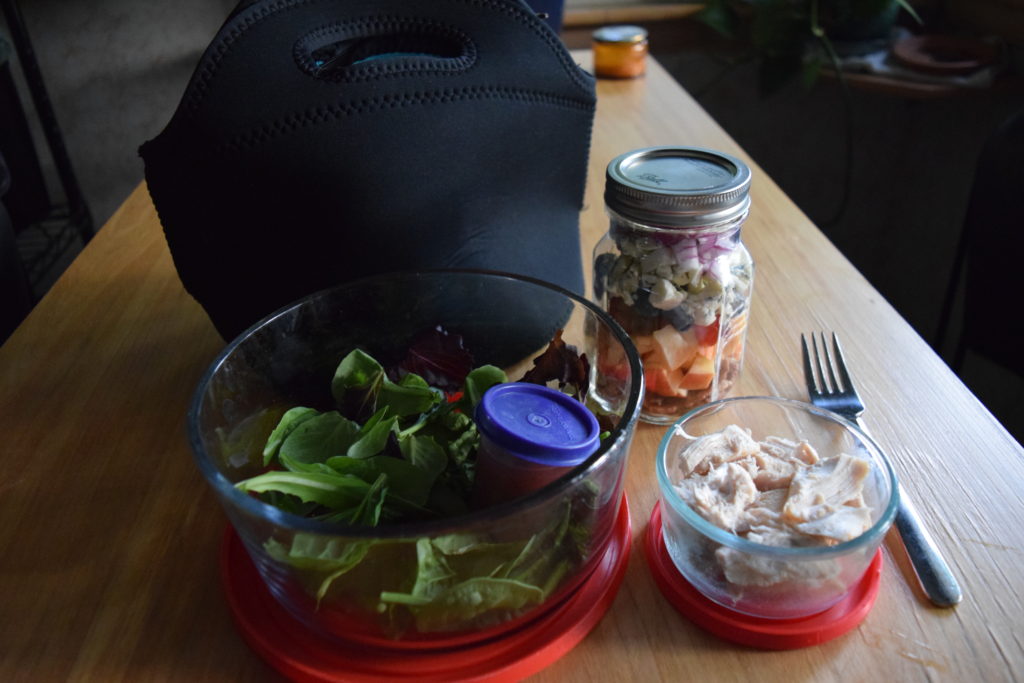 xoxo,
Zoe Lauryn
P.S. You can find more healthy recipes here! And if you haven't already done so, make sure to subscribe to my email list! By signing up here, you'll be signing up for exclusive content, including free workouts, yummy recipes, thoughtful mindset work and more. You don't want to miss out!